Special to NNG: "Renewed" Book Review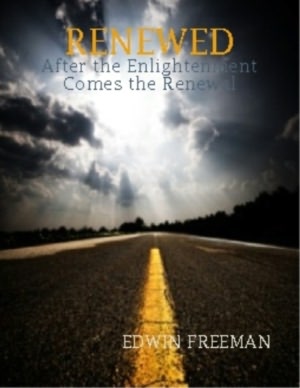 After "enlightening" readers with his debut collection of inspirational poems, actor and author Edwin Freeman is back with a new collection of inspirational poems entitled, "Renewed: After the Enlightenment Comes the Renewal". In "Renewed", Freeman follows the same structure as in his debut, in which he blends religious scriptures and themes with life lessons and commentary, in an effort to help readers grow, both mentally and spiritually. "Growth" is a central theme with Freeman's latest work "Renewed", in which he provides a high degree of wisdom and truth.
The collection opens with a poetic prayer entitled "A Prayer for Guidance during Tumultuous Times", which sets the tone of the collection. The main point of this poem, as with others throughout the collection is simply that no man can pull through life's struggles alone, and we must find it within ourselves to call out to a higher power, a message we can all live by.
Freeman is strongest in his writing in where he poses challenges to society to make a change, doing so in a timely and relevant manner. One poem which sticks out for both its timeliness and intelligent approach is in the poem "The Voiceless Poor". With all that has been going on with the Occupy Wall Street Movement, there really are many who are looking to see who will stand up for the poor and make a change.
As the collection draws to a close, Freeman stresses the importance of unity and understanding which only faith and consideration for one another can bring. Overall the benefit of Freeman's "Renewed" will encourage people not only to think about themselves, but to think about others, along with building their faith in a spiritual higher power and in the process helping to build better relationships. With that change will arise!
Renewed: After the Enlightenment Comes the Renewal
By Edwin Freeman
Available at: http://bit.ly/q1nMVp
Follow Edwin Freeman on Twitter: @Edwin_Freeman
Like on Facebook: www.facebook.com/EdwinFreemanFB